Pros
One of the best VPN providers on the market
Split tunneling
CleanWeb feature
Data breach monitoring
WireGuard protocol
Privacy-friendly VPN location
Great customer support
Private search engine
Real-time protection
Cons
No firewall
Scans take longer than usual
ID check isn't available in all countries
One of the top VPN providers on the market, Surfshark, produces the respectable antivirus program Surfshark. The antivirus includes Surfshark One, an all-inclusive cybersecurity package.
Although the antivirus is simple and light, it does include a high-quality VPN service, a private search engine, and tools for keeping track of data breaches. Currently, macOS, Windows, and Android all support it.
We'll talk about its features, pricing options, user interface, and more in this Surfshark antivirus review.
How safe is Surfshark?
Yes, everyone can use Surfshark antivirus safely. It defends you against various threats, such as worms and Trojan horses, among others. It provides real-time protection, and the VPN that is part of the package has a function called CleanWeb that shields you from obtrusive ads and trackers.
However, it's important to note that the antivirus lacks an integrated firewall that would stop malware from ever infiltrating your device. Additionally, there is no vulnerability scanner, which could assist in thwarting potential threats.
Additionally, Surfshark antivirus is kind to your resources. The average CPU usage during our full scan test was about 22%. Although 53% of the time was used at its highest, it quickly decreased. This means that the performance of your device won't be noticeably impacted by scans.
According to a thorough report by AV-test, 99% of zero-day malware attacks in the previous year were successfully stopped by Surfshark Antivirus. Furthermore, it led to a 100% detection rate for pervasive and common malware. Overall, it received 4.5 out of a possible 6 points for its protection.
Additionally, Surfshark Antivirus received a performance rating of 4.5 out of a possible 6. Additionally, it received the highest score (6 out of 6) for usability.
Regarding malware protection, usability, and performance, Surfshark Antivirus is unquestionably a top antivirus. You can rely on it for routine virus protection and threat detection thanks to recent top-tier results.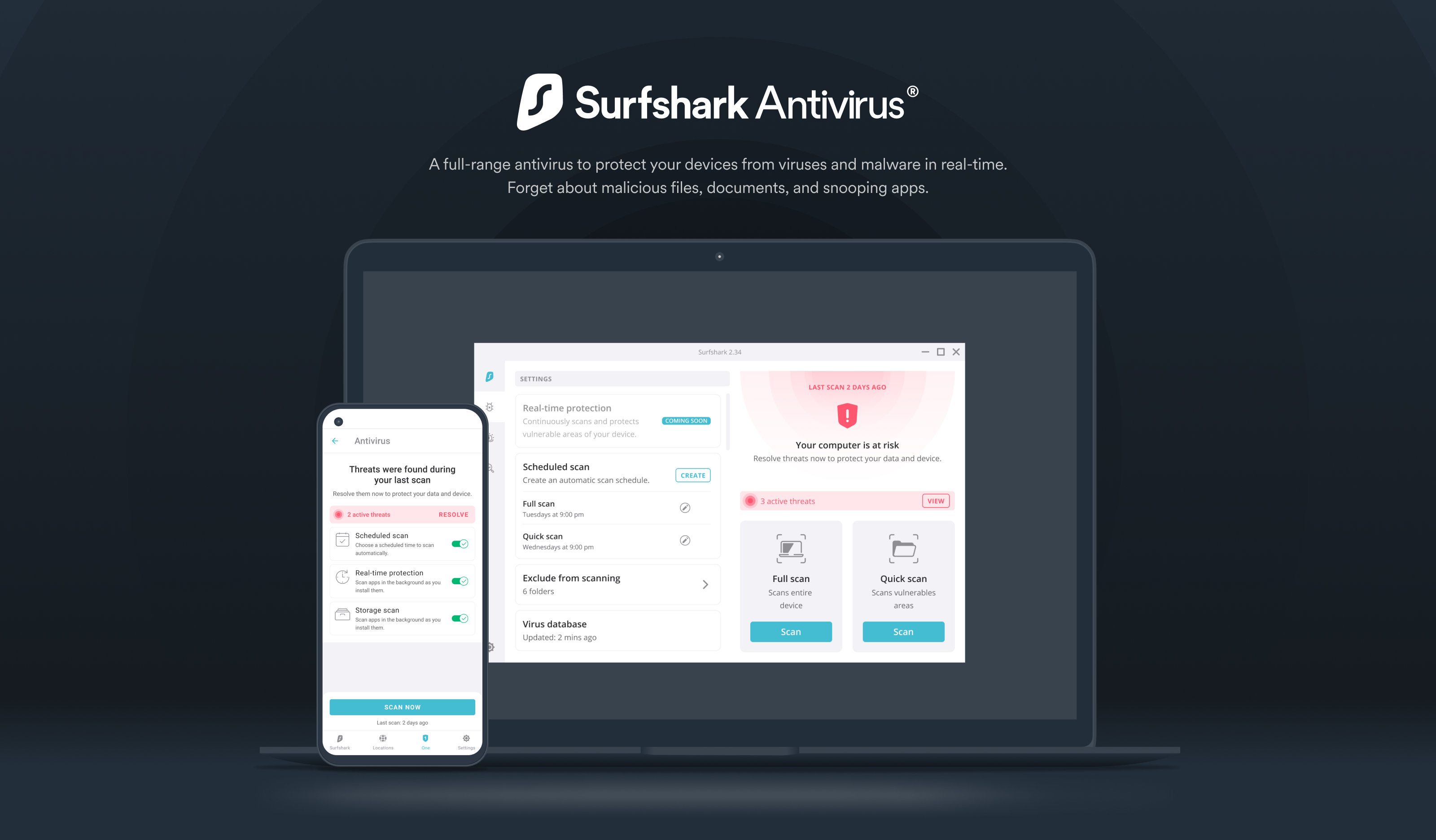 Features of Surfshark antivirus
Although Surfshark antivirus may not have as many features as other top antivirus programs, it stands out because it offers comprehensive security. You can do this by using a Virtual Private Network (VPN), a very secure search engine, and data breach monitoring.
A variety of scanning options are available for the antivirus, including quick, full, scheduled, and drag-and-drop item scans. Real-time protection is also now accessible on Windows and macOS in addition to the Android app.
But there's always room for development. Most top-notch antivirus programs come with a firewall as an additional layer of security, preventing threats from ever entering your system. A password manager or parental controls, both of which are useful security features, are also frequently used. Although Surfshark antivirus doesn't have these features, it is still a relatively new product and is being updated, so there may be significant future improvements.
device inspection
The three device scanning options offered by Surfshark are quick, full, and file/folder scan. Starting with the quick scan, it seemed to go by too quickly, giving the impression that not many files were scanned.
On a quick virtual machine, the full scan took me about 25 minutes to complete. The antivirus did detect 9 out of 10 malicious files that we tested with, which shows that it has a high rate of malware detection. Additionally, it is even possible to exclude items from any type of scan with Surfshark antivirus.
Another feature worth mentioning is the drag-and-drop file or folder scanner because it is very useful. You can drag one item at a time or several at once. It's an easy way to personalize your scan. An option to save a particular scan for later use would be even nicer.
You can still set up quick or thorough scans with Surfshark. You can pick the days of the week and the time you want the scan to be done. Users who want to regularly scan their system but don't want to keep doing it manually will find this useful. Did we mention that you can simultaneously scan up to five devices? That is correct!
Real-time defense
If you've never heard of real-time protection, it basically constantly scans your device for threats. This indicates that the antivirus is continuously running in the background in an effort to ensure that threats are quickly identified.
I protect your device in real-time from a variety of malware, such as worms, trojan horses, backdoors, and others.
In Surfshark One, there are
Additional features are also important to note because the antivirus is a part of the Surfshark One package. One of them is the well-known and top VPN on the market, Surfshark VPN. Additionally, the Alert feature keeps track of your data and notifies you in the event of a data breach. Also included is Surfshark Search, a private and extremely secure search engine.
Surfshark VPN
A VPN is included when you purchase the antivirus included in the Surfshark One package. If you're not familiar with it, a VPN is a tool that enables online anonymity and security. No outsiders can observe what you do while connected to the Internet with it.
One of the top VPNs available is Surfshark VPN, making it a wise investment for your online safety. It is a feature-rich service that offers a multihop feature that periodically switches the server to prevent connections to your real IP address. Additionally, it provides a disguise mode that makes VPN traffic appear to be regular network traffic.
I liked that Surfshark VPN works even in nations with strict restrictions. Additionally, a dependable kill switch that disconnects you from the Internet is available even if your VPN connection abruptly drops. You can protect your IP address in this way.
In addition to receiving exceptional speeds, the service offers 3200 servers across 100 different countries, giving you a wide range of connections options. You can take advantage of anonymous torrenting and geo-restricted content streaming thanks to a sizable server fleet. That's right, Surfshark VPN can assist you in getting around regional restrictions if your favorite show isn't offered in your area.
Search Surfshark
A secure search engine is essential in a world where third parties blatantly use your personal information, and Surfshark provides a fantastic one. It's no secret that different search engines, including Google, gather information about you. With Surfshark, however, everything you do is completely private. Additionally, this means that past searches have no bearing on your current one.
The best thing about Surfshark Search is that there are no ads at all, so you can browse without being interrupted. This search tool enables you to look for websites, pictures, and videos.
Surfshark Warning
What other antivirus programs call data breach monitoring is essentially what the Alert feature does. It searches the internet for any instances of data leakage. Surfshark will send you a warning if it is. You can even choose how frequently you want to get updates—every time a recent data breach occurs, or just when your accounts are impacted.
Your email address, credit cards, and IDs are just a few of the things it can keep an eye on. Simply include it on the list of things the tool is supposed to check. Remember that two-factor authentication must be enabled in order to use Surfshark Alert in order to protect your data.
Incogni
Despite not yet being a part of the One bundle, there is one more Surfshark tool that we simply must mention (hopefully, it will be in the future).
For those who don't want their personal information to circulate on the Internet, there is a program called Incogni that is very helpful.
To put it simply, the Incogni team will get in touch with data brokers who hold your personal information, such as your phone number, address, email, etc., and ensure that it is all removed from the databases.
Plans and costs
Contrary to most other well-known antivirus programs, Surfshark antivirus comes with the One bundle, which only offers one package option with all features available. However, you can buy the plan for various lengths of time. You will ultimately save more money if you choose a longer subscription.
| | |
| --- | --- |
| Version | Price |
| 1-month plan | $14.44/month |
| 1-year plan | $41.88/year |
| 2-year plan | $95.52/year |
It will cost you $14.44/month if you buy the plan for one month. Considering that purchasing a year's subscription would cost $41.88/year in total, it is quite a bit for just one month, making a longer subscription a much better investment.
Not to mention that you receive a 30-day money-back guarantee when purchasing Surfshark antivirus for a year. It entails that you can test out the service risk-free for a month without making a long-term commitment.
When you consider that you also receive a VPN and other helpful tools, the antivirus also covers 5 devices, making it a good value. Surfshark offers a variety of payment methods, including credit card, PayPal, Google Pay, and virtual currencies.
Easy of use
Apps for Windows, Android, and macOS are currently available for Surfshark antivirus. The service is a reasonably priced option that is relatively lightweight in terms of both security and features. But how practical are the apps? Is it simple to use them? Let's investigate that.
macOS app
The antivirus program Surfshark recently became accessible on macOS. The setup is not too complicated. Before installing it, you should be aware that you must download the app from their official website. Once you've finished, you're ready to explore all of Surfshark's features.
The macOS app is convenient and incredibly easy to use, and I enjoyed the sleek, simple design. Real-time protection is included, and scheduling scans or excluding particular items from them is possible. Regarding the quick scan, we scanned about 7000 files in less than a minute.
There are sections for Alert, Search, and VPN just like in the Windows app. All the essential features, such as auto-connect, CleanWeb, and a kill-switch, are available in the VPN section. You can conveniently schedule scans and exclude particular items.
Despite having fewer features on macOS than it does on Windows, Surfshark is still extremely user-friendly and has a clean, well-organized design.
Windows app
The entire setup process for Surfshark only took me a few minutes, beginning with installation. Simply buy a plan, register, and download the app to get started. When you open it after installing it with a few mouse clicks, you are brought to the main dashboard where everything is located.
The antivirus section is exceptionally well-organized; on the left side, scheduled scans, a selection to exclude items from scanning, and a virus database are all displayed. Fortunately, recent updates to Surfshark have made real-time protection accessible on Windows as well.
It is very easy to navigate because all the tools—VPN, antivirus, Alert, Search, and Settings—are located on the left side of the screen. For example, Surfshark Search is limited to a search bar. The Alert feature, meanwhile, reroutes you to the website where you can set up 2FA and keep track of both recent and historical breaches. Regarding the VPN section, everything is neatly organized in one location, including servers, connection options, and features.
Android app
Both the Windows and Android apps are as user-friendly. Finding everything you need is simple because it isn't crammed with pointless items. The Surfshark, Locations, One, and Settings sections are located at the bottom of the screen once the app is configured.
The Surfshark section contains your IP address, a kill switch, and is essentially the VPN's main dashboard. The section that follows lists servers and their locations. Additionally, you have the option of connecting to the nearest or fastest server.
The Search, Alert, and antivirus tools are all included in the One section along with everything else that the bundle has to offer. The first two resemble the Windows app in terms of appearance, but the antivirus only has the Scan button. It's very practical that this is the industry standard for mobile antivirus software.
Overall, the app is incredibly user-friendly. Maybe, but that's just a matter of preference if the antivirus had a separate section.
Customer service
The customer service provided by Surfshark is excellent, and you have a few options at your disposal. First off, you can use their extensive knowledge base if you prefer to figure everything out on your own. You can use the help center search bar to find guides relevant to your problem once you've accessed Surfshark's customer support page.
Below it, you'll find three tabs that will aid in navigating the current knowledge base: VPN, Surfshark One, and My Account. You can find helpful guides as well as video tutorials.
But if you need some help from a person, scroll down and you'll see two options: "Send us an email" and "Chat with us." The latter is a 24-hour live chat, while the former is self-explanatory.
All I can say based on my own experience is that the Surfshark representatives were very helpful and friendly, and they quickly responded to all of my questions.
Final judgment
A reliable tool for removing threats from your Windows or Android devices is Surfshark antivirus. It offers real-time protection and blocked 9 out of 10 malicious files that we tested with.
The antivirus is included in the 2021-released Surfshark One bundle. Being relatively new, it could benefit from some upgrades, like adding a firewall or a password manager. But given that Surfshark already offers excellent general protection and has many new features in the works, it's one of the best cybersecurity packages available.
A data breach monitoring tool that notifies you when your data is compromised, a private search engine that doesn't track your information, and an incredibly quick and secure VPN are all included.
We advise purchasing the one-year subscription if you're thinking about purchasing Surfshark antivirus. Compared to the monthly subscription, it is significantly more affordable and comes with a 30-day money-back guarantee.